Give a nice, colorful and soft gift to a child: my bunny quiet book.
It is perfect as a gift for preschool and kindergarten kids.
This is the back. You can hang it on the wall on both sides.
My felt board is soft, funny, colorful, and helpful for math. It is a bunny garden with 10 carrots that you can move on their ribbon to make addition, subtraction or just to count them. The bunny is a finger puppet (my 5 years daughter loves it ! - children like to play with finger puppets). Size for book: 11.50 x 9.00 inches ( 29 x 22cm).

It can be a great decoration for your classroom, as additional item for homeschooling, for your kids room, a perfect Easter gift or a funny birthday present.
My felt board is perfect for kindergarten and preschool, for 4 - 6 years children, boys and girls too. If this book is for a boy, or if you consider that the butterfly beads are not safe, I can sew your book without them.
Count with your kids: 1 sun, 2 clouds, 3 cabbages, 4 flowers, 5 spots on the mushroom, 6 leaves.
Use the finger puppet bunny to entertain your kids. If there is something that the child can move and touch, the game is more attractive. Create a story about a rabbit who wants to eat cabbages and carrots and talk to your little one about what rabbits eat. Ask him / her to tell other rabbit food and draw them on a separate sheet of paper.
Move the carrots on the ribbon to make addition or subtraction. Count them, and sort them. Ask your child to make simple addition: 2+ 1 and 3+1 and so on and invent a story: "The rabbit has only one carrot. But he is so hungry. Can you please give him other 2 carrots? How many carrots the rabbit has now? And if he eats two carrots, how many carrots remain?"
My daughter uses to play with this felt board and to write on her notebook the exercises. We even play "I spy ... ", and we try to find more nice words for everything (adjectives): "I spy ... something green and small. I spy ... something cute, yellow and with spots". You should try too.

You can create many games and exercises with my felt colorful board. Don't be shy with your kids. Put on a show for them.
-Sing a silly song about a rabbit, even without rhyming words: "This little bunny / Goes in the garden / And he finds / Some cabbages .... // Let's eat them / Let's eat them / Let's eat the cabbages."
-Create short Good Night stories.
-Imagine difficult situations for the bunny and ask your kids to save it: "It came a storm and the cabbages and carrots are lost. Let's help bunny to find some food. Where should we search for food? "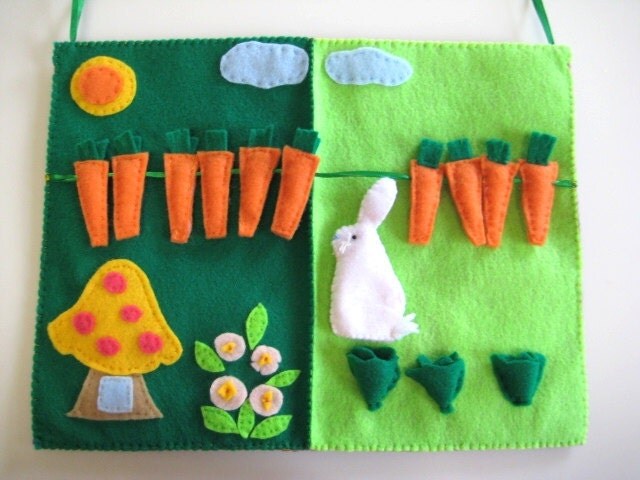 Custom orders are always welcome. If you want another story for a felt board, please send me a message.

If you want the child name on the back (something like that: "Susan's Book) or a title (for example, Bunny Book), I'll sew it for additional price: $ 3.00.